The
Gravitate
Health
digital health information journey has been featured in a great #podcast issued by the Norwegian Polytechnic Society.
The podcast is delivered as an insightful conversation between:
Professor Anne Moen, Gravitate Health Coordinator, University of Oslo and the past president of the European Federation for Medical Informatics (EFMI), visiting professor at the Norwegian Centre for E-health Research, Trømso.
Dr Giovanna Ferrari, Industry Project Lead for Gravitate Health, Pfizer, International Labeling Group.
Dr Eva Turk, member of the Board of the Polytechnic Society Health Network, Senior researcher In Gravitate Health, University of Oslo, Associate professor at USN.
They discuss about the unique opportunity offered by the Innovative Medicines Initiative as a funding mechanism to sustain public-private partnerships fostering innovation in public health. Also, they explain the background and the underlying need that lead to the setup of Gravitate Health as an integrated digital health information project.
Dr Ferrari explains that Gravitate Health ambition lies on the role and the value of the information that is provided to patients about the medicines they use and how to provide them help and guidance to use those medicines safely and correctly. She also stresses the importance to improve access and easiness to understand the information (currently provided in medicinal product leaflets) that the patients actually need in their day-to-day health management and illustrates the typical challenges that patients are facing such as the current paper-only format of the available information, as well as its high volume and complexity which becomes even more difficult to understand for patients who need to intake multiple medicines in their treatment plans.
Furthermore, she points out the current lack of integration and personalisation of the broader array of health and medicine information a patient actually needs to be in the ideal conditions to self-manage her or his own health and care plan and make the correct decisions, for instance, in terms of adherence.
As Prof Moen highlights, these challenges require a multi-disciplinary effort need to develop and test innovative digital health information tools capable to integrate and deliver information from a set of trusted sources, including regulator-approved medicinal product information but not limited to it. For this reason, Gravitate Health will seek to demonstrate tangible advances in the integration of medicine information with other relevant health information sources such as the Electronic Health Record International Patient Summary (EHR-IPS) and their adaptation to better meet individual needs and contribute to person empowerment and health literacy.
The Gravitate Health mission builds on the urgency to solve a pressing societal issue testified by recent statistics released by the World Health Organisation (WHO) revealing for instance that about 50% of the medicines are today prescribed, dispensed or sold inappropriately. Also, scientific studies have demonstrated that more than 50% of patients are not actually adhering to treatment recommendations. Prof Moen reminds the significance of those public health concerns and argues how one of the underlying determinants for them is indeed the current fragmentation in the "information chain" accompanying the patient journey from treatment decision and prescription to dispensation and actual treatment.
In addition to this, by listening to the podcast you will learn about how Gravitate Health is planning to interact with and contribute to the current standardisation efforts made at international level and specifically collaborate with the European Medicine Agency and their ongoing work on the development of a FHIR-based proof-of-concept standard for electronic product information (ePI) which implementation will represents a keystone in health self-management for Europeans.
The podcast is the result of a collaboration with the Norwegian Polytechnic Society, a recognised knowledge-based member network for sustainable technology and social development – through interdisciplinary insight, inspiration and influence – since 1852. It is an independent and non-commercial society, and has 2,000 private, corporate and organizational members. Through competence networks and partnerships across sectors, it facilitates digital and physical multi-stakeholder dialogue on important topics in technology, society and business. The podcast #PolyPod series reaches a broad audience with 25,000 listens.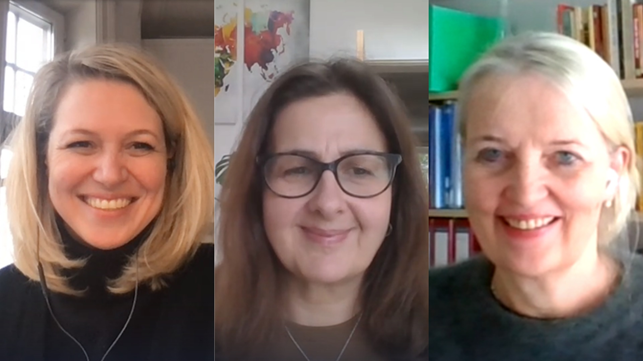 "Actual engagement can only happen when people have access to accurate, understandable, trusted and reliable health information that meets your real needs and is tailored to your personal situation, context and health literacy level"

 

~ Anne Moen
"One of our key deliverables will be a federated open source platform which is going to offer services to give access to relevant health information in digital forms"

 

~ Giovanna Ferrari