Statement of collaboration to support the EU ePI Common Standard
We are excited to share a joint
Gravitate
Health
- European Medicines Agency (EMA) statement about our collaboration and alignment regarding the EU ePI Common Standard, announced on August, 15th 2022.
Gravitate Health is an IMI funded Public-Private Partnership seeking to empower patients and their support network with better access to trustworthy, up-to-date information that better meets their individual needs. We will develop the Gravitate Lens (G-lens®), which will focus and present relevant information content, and central is use of approved electronic product information (ePI).
Interoperability standards based on HL7 FHIR resources will be an important enabler for progress on the G-lens®, to provide interoperable and standardized means of exchanging trusted product information between digital tools. Within Europe, Gravitate Health will be using and testing the recently adopted FHIR-based EU ePI Common Standard in multiple user scenarios.
Ensuring patients and healthcare professionals have access to trusted and up to date electronic product information is a topic of global relevance and interest. Therefore, to maximize international cooperation and accelerate progress, Gravitate Health collaborated with the HL7 VULCAN accelerator to establish a special track at HL7 FHIR Connectathons to engage the global community and drive further development of the necessary and robust HL7 FHIR resources for electronic product information (ePI). The FHIR ePI co-created through the work in the HL7 Connectathons are completely aligned with the EU ePI Common standard; composed with FHIR Lists, Bundles, Composition to represent medicinal product information documents (see figure below).
Whilst the EU ePI Common Standard includes a link to SPOR (the master data system for EU medicines), the 'Vulcan ePI', includes the option to consolidate these components directly into one document. Building on developments in the EU makes it possible to progress towards a harmonized interoperable standard for ePI that is suitable for global use. Through this work, the Gravitate Health consortium collaborates with EMA, other regulators and a global community of experts to ensure harmonization and progress towards a global common ePI standard using HL7 FHIR resources.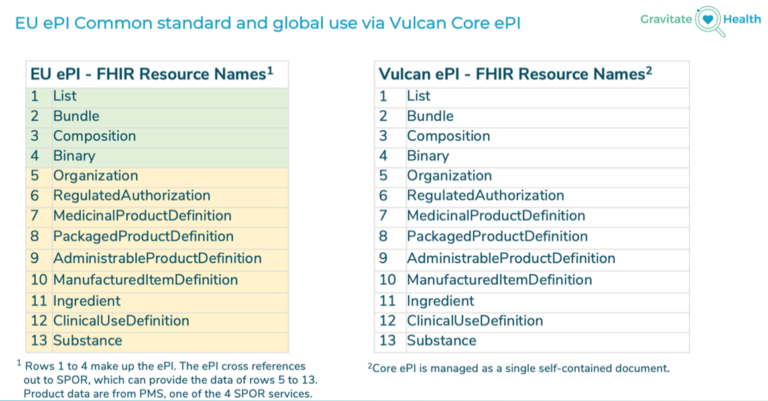 August, 15th 2022, Gravitate Health and EMA-HMA-EC ePI project.